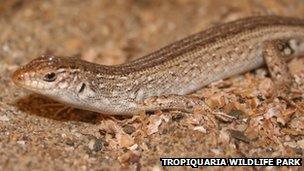 A rare lizard survived a 3,000-mile flight and a machine wash cycle after being unknowingly thrown in with the laundry by a Somerset holidaymaker.
Sue Banwell-Moore had returned from the Cape Verde Islands when she found the creature among her clean washing.
Ms Banwell-Moore, said: "I did scream, I was just so shocked. I couldn't believe how it got there, on my floor."
The Chioninia lizard, which has been named Larry, has been re-homed at the Tropiquaria Wildlife Park in Watchet.
'Little head'
After the initial shock of finding the reptile on her kitchen floor, Ms Banwell "sort of fell in love with him".
She and her family feared Larry would not survive the night after his double ordeal.
It was put in a warm box in the hope it would make a full recovery.
"He put his little head up, like he was reacting to my voice, I was just so pleased he was doing well," she said.
The lizard has been taken to a wildlife park in Somerset where it is under close observation.
Park director, Chris Moiser, said: "It is very rare - Cape Verde islands is one of those places with native species found nowhere else in the world, it's so remote.
"We have it down to one of two species but to tell the difference between these we need to carefully count some of the small facial scales, which is rather difficult on a relatively small lizard, which moves at speed."
There are concerns that the washing powder detergent could have been inhaled by the lizard, which could affect its lungs and cause pneumonia.
So far, staff at the wildlife park say it is doing well and is "almost out of the danger-zone".